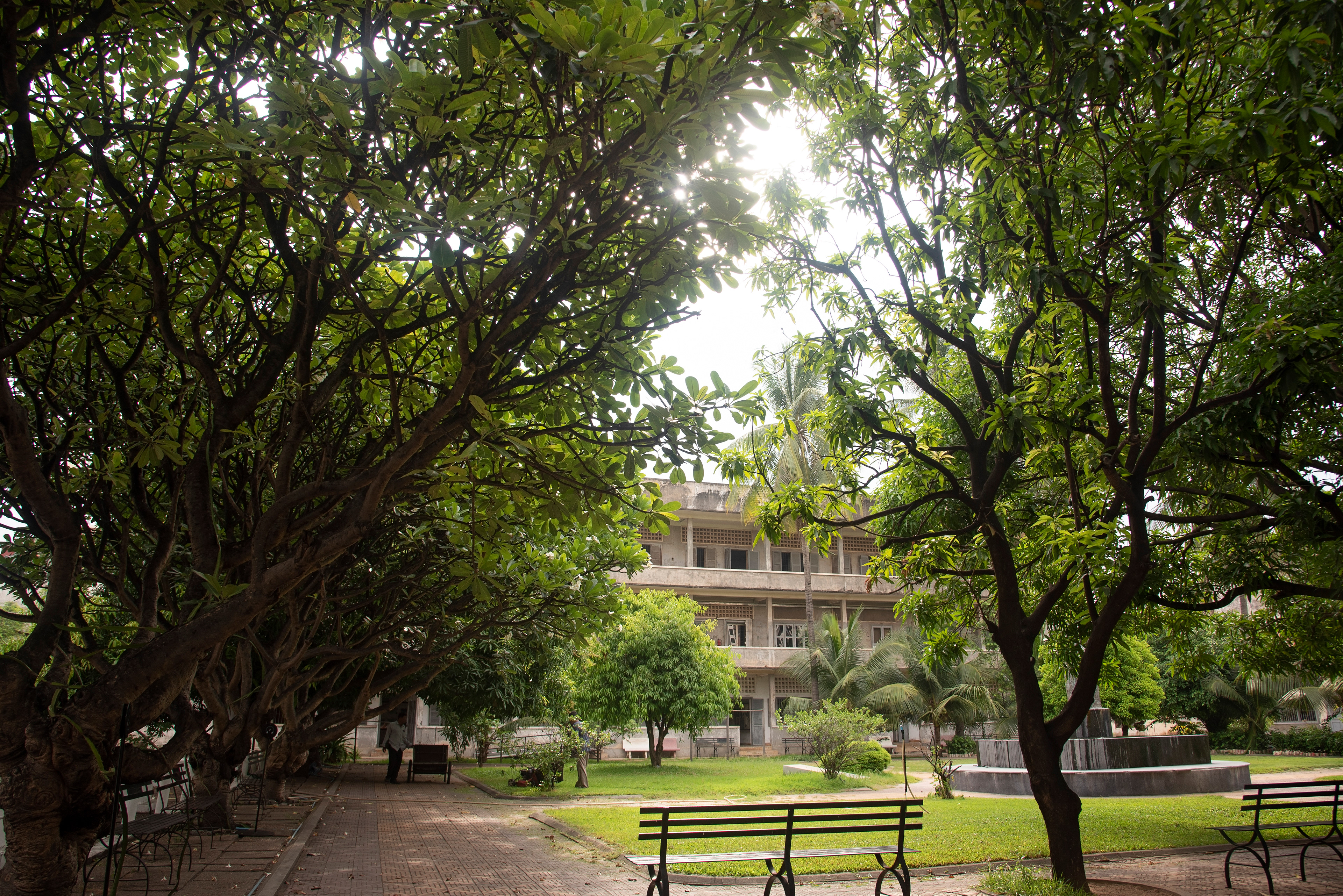 The grounds at Tuol Sleng are peaceful now, a sight that belies the history of the place.
By Delia Palmisano
By Michelle Rotuno-Johnson
The Khmer Rouge turned a secondary school into an interrogation and detention facility, where they tortured and killed an estimated 20-30,000 of foreigners and their fellow Cambodians — including children. Only a handful of people survived at this site.
Today, the grounds once known as Security Prison 21 (S-21) are a memorial to the victims, many of whom have never been identified. Outside its walls, the customary clamor of life in Phnom Penh goes on: Motorbikes putt by, people stop at cafes for a drink, and street vendors try to entice customers to
their stalls.
Past the walls, the peace of the modern Tuol Sleng is almost shocking, if you know any part of what happened there under the Khmer Rouge. Lush green trees and monuments stand tall in the courtyard. Chickens peck at the ground. A slight breeze cools sweaty skin under a brilliant blue sky. But though 40 years have passed and an unknown number of visitors have passed through the grounds, the air is still heavy, perhaps under the weight of thousands of victims who were brought here and tortured.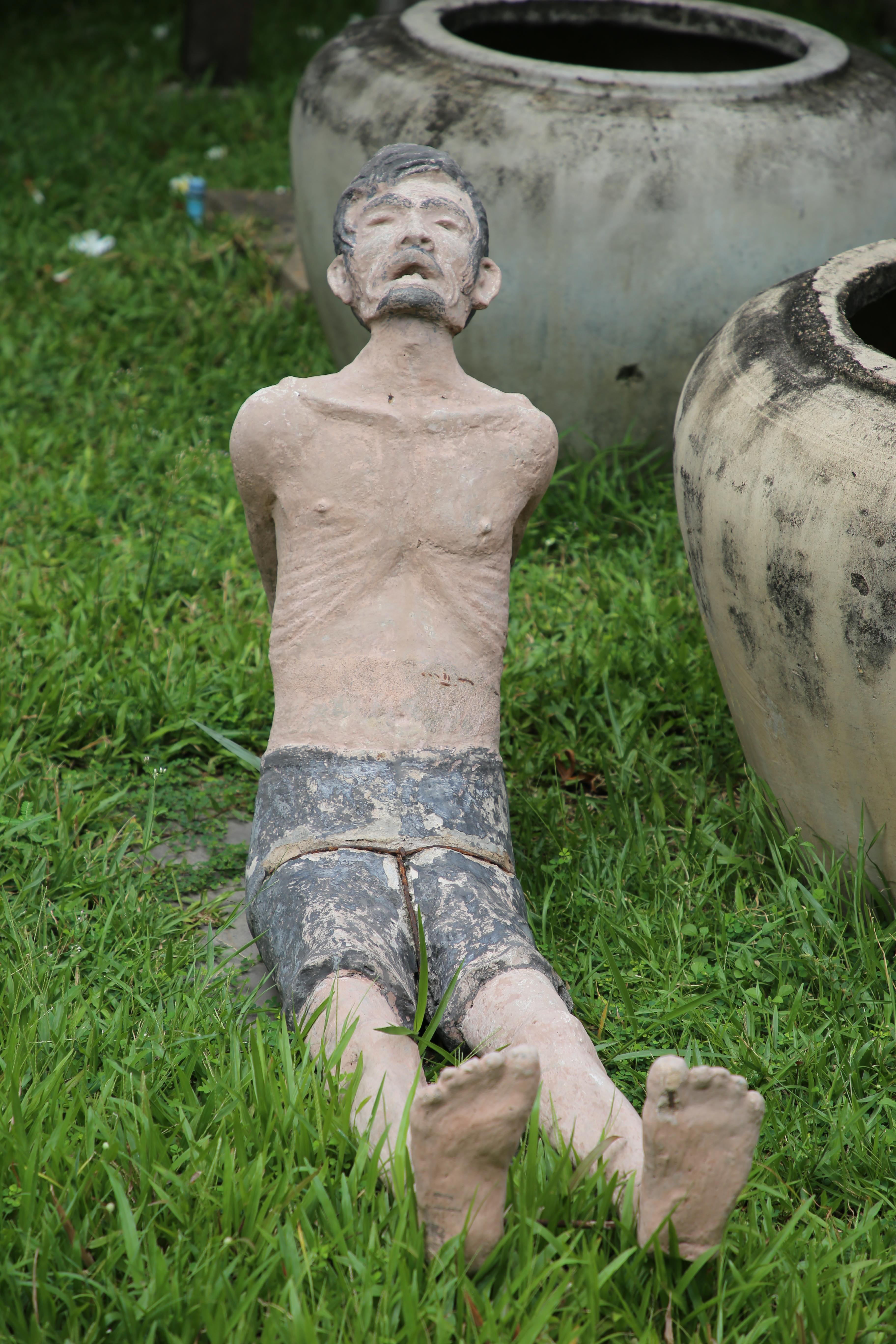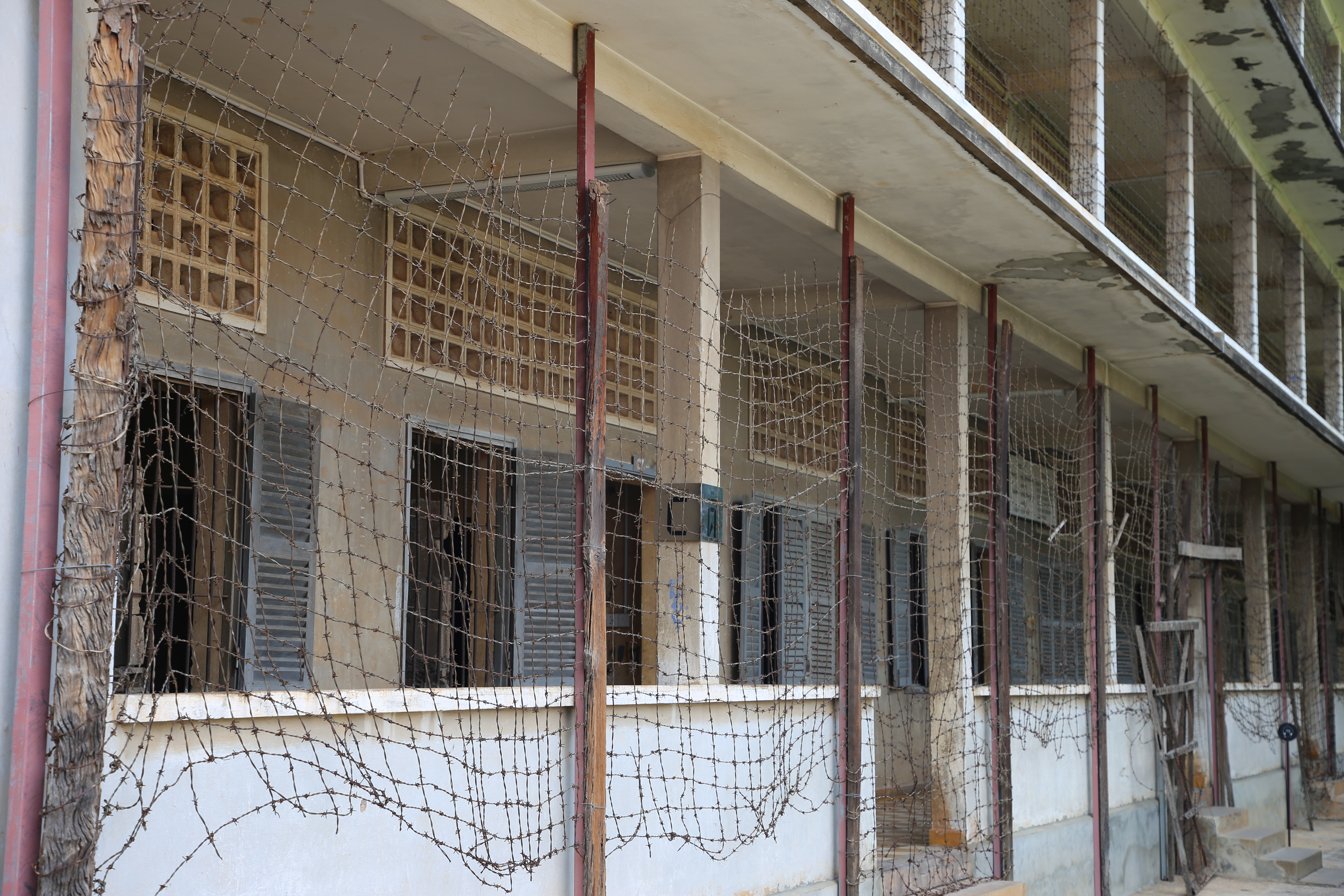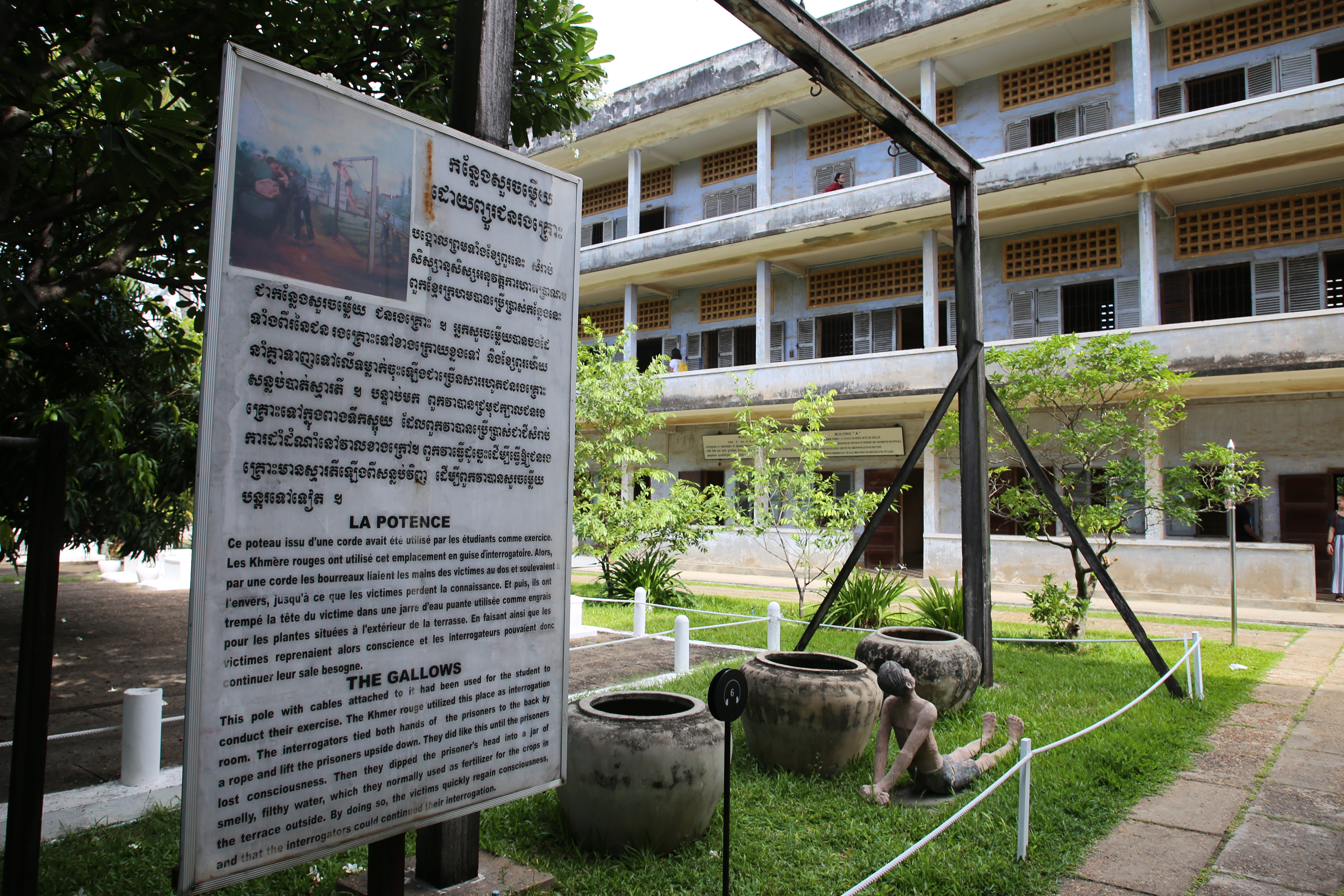 (

top left)

A statue sits in the center of the prison to serve as a reminder of what happened there.

(top right)

The barbed wire remains intact on the prison.

(bottom)

A sign explains what the gallows, to the right, were used for at the prison.

By Aaron Atkins
Ohio University junior Sam Taylor said it was crucial for her and the other Bobcats to confront this piece of Cambodia's history.
"It was hard, but I'm glad we did it," she said. "If you're going to come to Phnom Penh and experience the fun things, it's also our social responsibility to learn about the difficult things."
Khmer Rouge leader Pol Pot wanted to create an agrarian society, and his soldiers began moving citizens out of the cities into communal farms in 1975. Anyone suspected of being "an intellectual," who knew a foreign language, who wore glasses, or who dared to question the regimes ended up in torture centers or executed immediately. Overall, an estimated two million people died across Cambodia. Tuol Sleng is one of the most well-known detention and torture facilities.
At the beginning of a self-guided tour, visitors can pick up an audio recording and headphones to learn more about each stop along the four buildings. Visitors walk through rows and rows of tiny detention cells and look into the faces of the victims, preserved in photographs the Khmer Rouge took.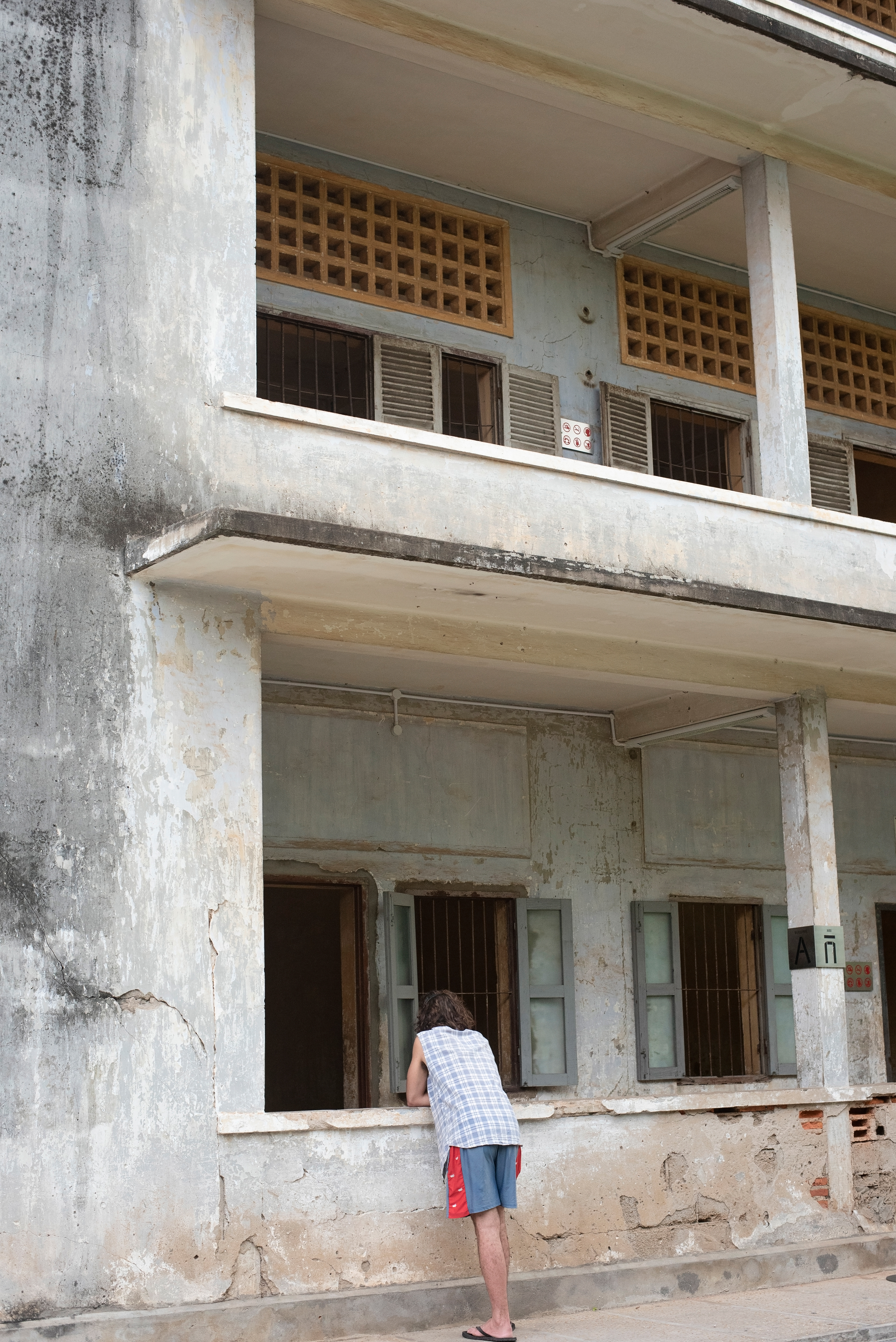 Visitors look into the rooms where people were tortured.

By Delia Palmisano and Aaron Atkins
Torture tools and victims' clothes are among the displayed evidence of this horrifying time in Cambodia's history. Many of the rooms and buildings were preserved almost exactly in the same state as Vietnamese photographers found them in 1979, including the beds prisoners were chained to and photos the Vietnamese took upon arriving. Blood stains spatter the floor of several cells, and chain links poke out of the stone.
Ohio University senior Caity Gampp said she had chills as she stared into the victims' eyes -- men, women, and children frozen in time, many of whom have never been identified. She said the experience became more frightening as she moved through the detention cells by herself, listening to the guided tour.
You could just feel the energy in there," she said. "I felt like I could feel the spirits."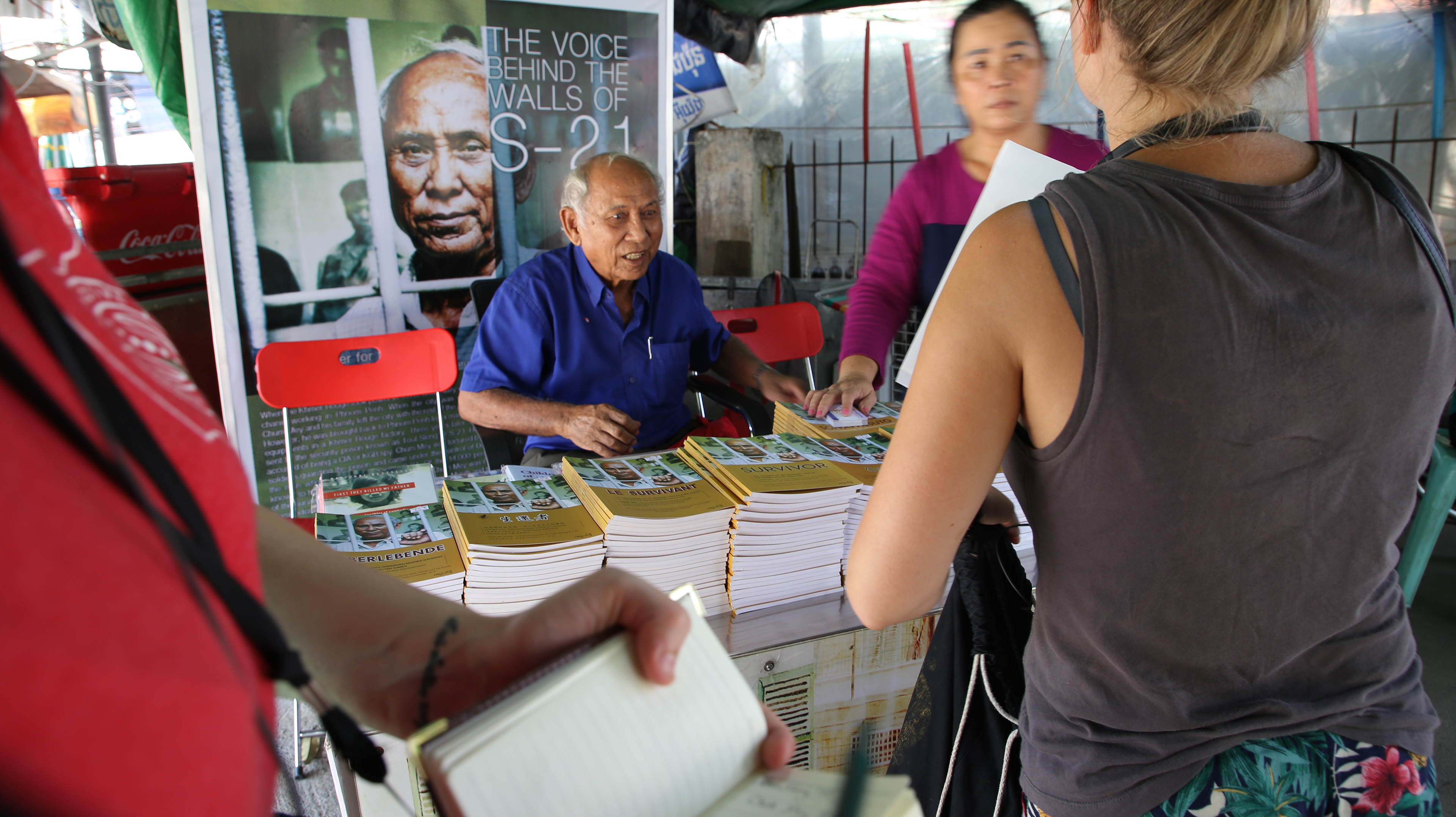 Two of the adult survivors, Bou Meng and Chum Mey, shared parts of their stories with visitors walking the grounds. Meng, an artist, spoke through a translator about how his wife and children were killed in the prison.
Mey, a skilled mechanic, also spoke through a translator and says he was spared because he could repair the typewriters and sewing machines the Khmer Rouge used. Both men have spoken at length to the public about their experiences and the importance of keeping Tuol Sleng alive in the world's memory so something like this never happens again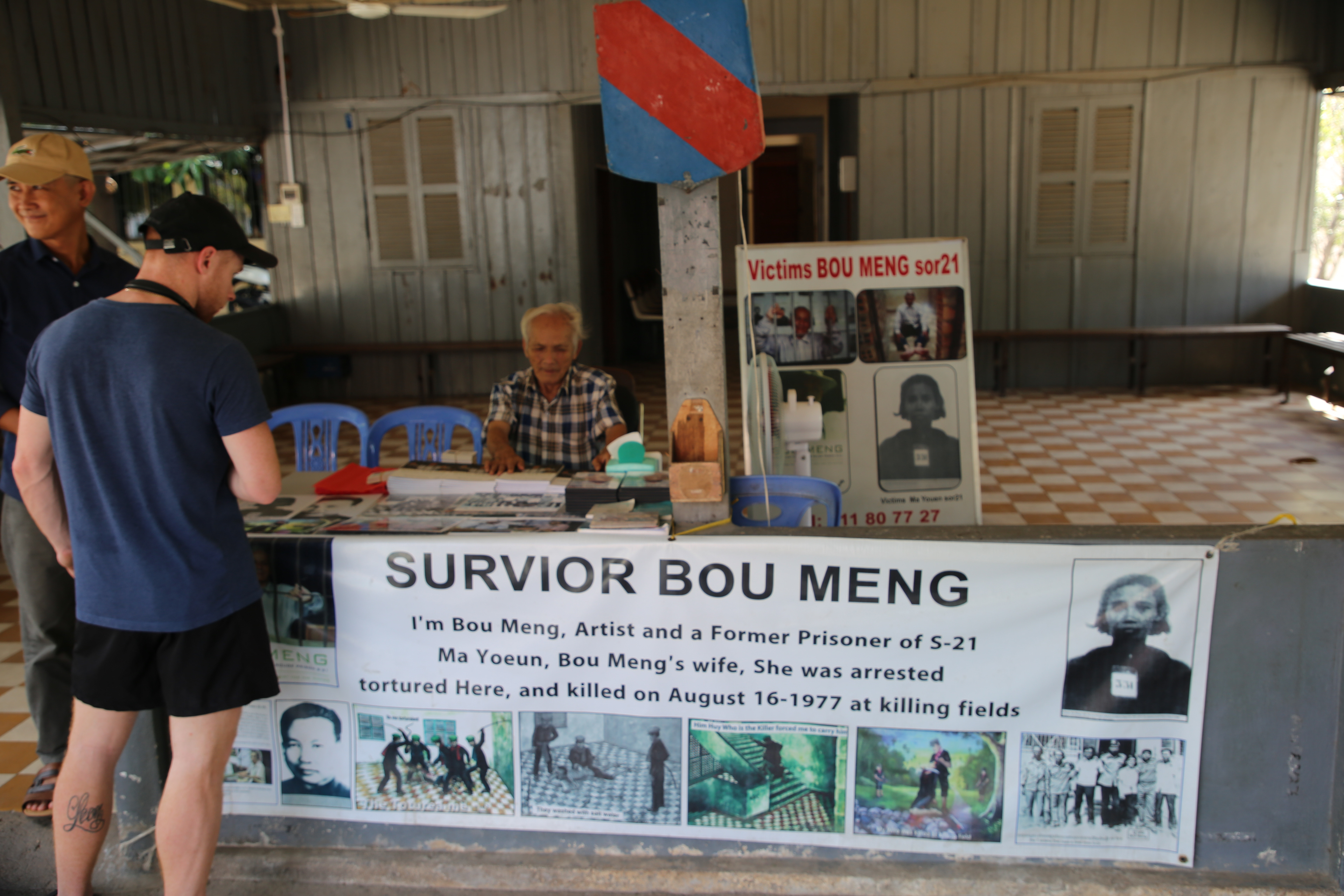 Junior Lauren Sheil spoke with Meng and described how she began crying, and Meng moved to wipe the tears off her face.

He kissed my cheek and he spoke no English, but it was the man who had lost his wife and both of his sons in front of him at the place we were at.
And seeing him comforting me because of what he had been through, I can't describe the kind of strength and power and humbleness that would take. He goes back there to support all the people he lost instead of being afraid of that place," she said.
"I'll never forget him or his voice, even though I had no idea what he was saying. And I think that that was an experience I won't forget because that kind of strength, you can't teach that it's something that's in your soul."
(top)

Chum Mey

. (bottom)

Bou Meng.

By Aaron Atkins
This was an eye-opening experience for the Ohio University Global Leadership Center students, and one they will carry with them.
"Almost everything (we've done on this trip) has been positive," Taylor said. "It makes me want to structure my vacations around doing things more tied to the culture of the place, not just going to the beach or doing touristy things, actually learning about it because those have been my favorite things we've done."
Photos are not permitted in many areas of the genocide museum, including the torture cells, prisoner cells, and areas where victims were photographed; photos of these sections of the site can be found on the museum website at tuolsleng.gov.kh/en.
MORE INFORMATION ON THE CAMBODIAN GENOCIDE:
They discovered 388 mass grave sites and 196 former prisons run by Pol Pot's soldiers, and 81 genocide memorials built by survivors of the Khmer Rouge rule. 
They also documented 115,000 sites targeted by the United States from 1965-75. Combined,
the Johnson, Nixon, and Ford administrations dropped at least half a million tons of munitions
on Cambodia.