By Michelle Rotuno-Johnson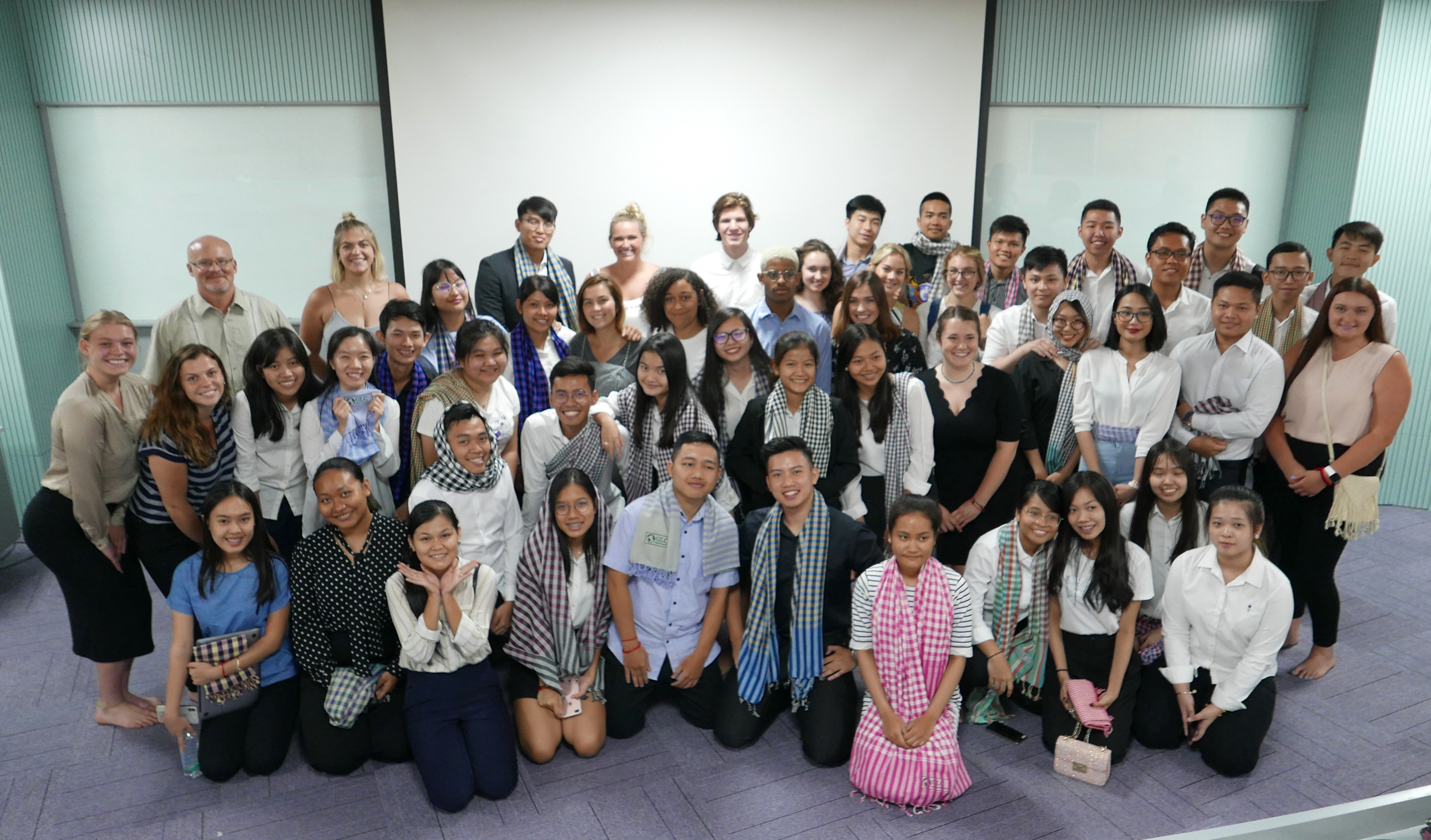 The OHIO students and their AUPP colleagues had under two weeks to do market research and develop a personalized plan for their clients. The students spent their first day together doing a scavenger hunt around Phnom Penh, which gave them the opportunity to get to know one another and helped acclimate the American students to a new city. Scavenger hunt sites included the Olympic Stadium, the bustling Central Market, and clients' offices.

Video by Michelle Rotuno-Johnson
Over the following days, the students from both universities met in various places around Phnom Penh to iron out the details of their project plans. Part of the journey for OHIO students on this trip was learning how to navigate the language barrier and be flexible with clients' schedules and expectations. They also sharpened their skills in time management, problem-solving, and other skills that will help them become global leaders.

On our GLC Cats page are students' interviews about their time in Cambodia, what they learned, and any challenges they faced and overcame while working on the projects.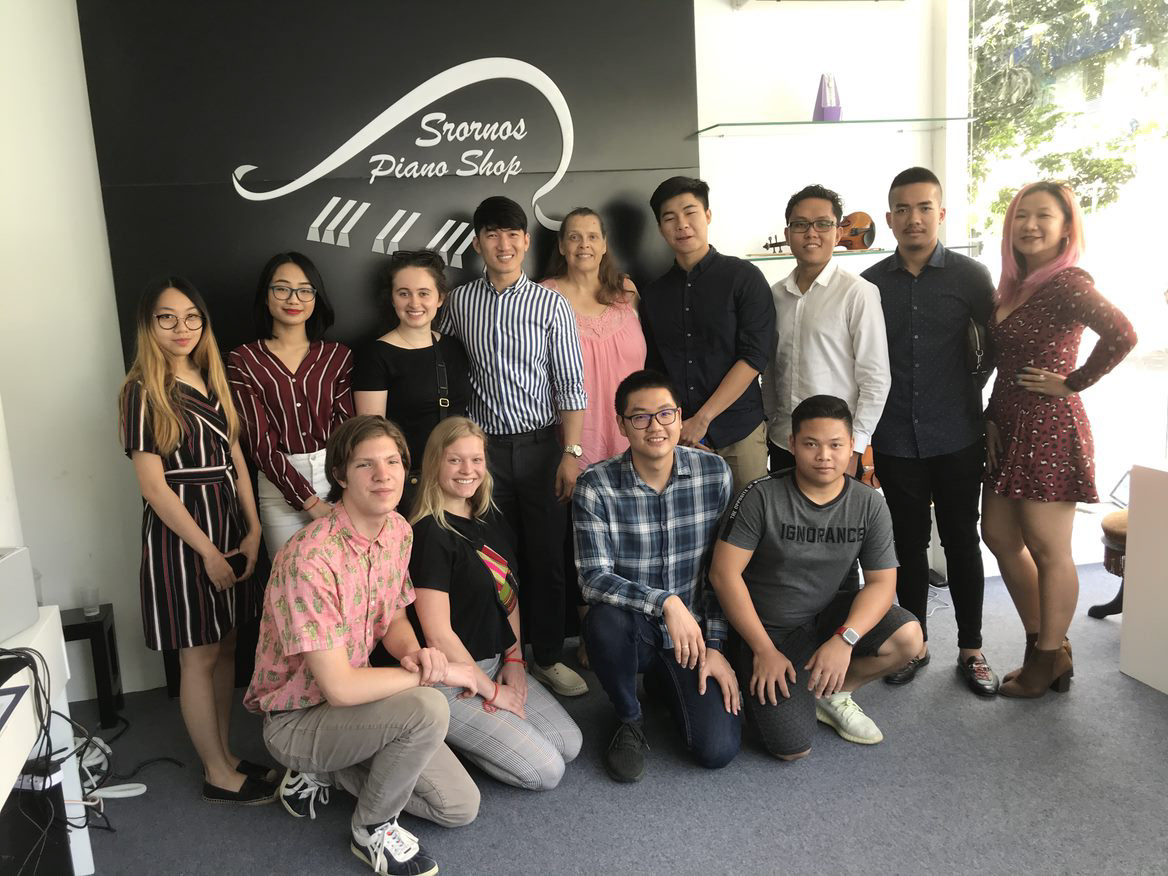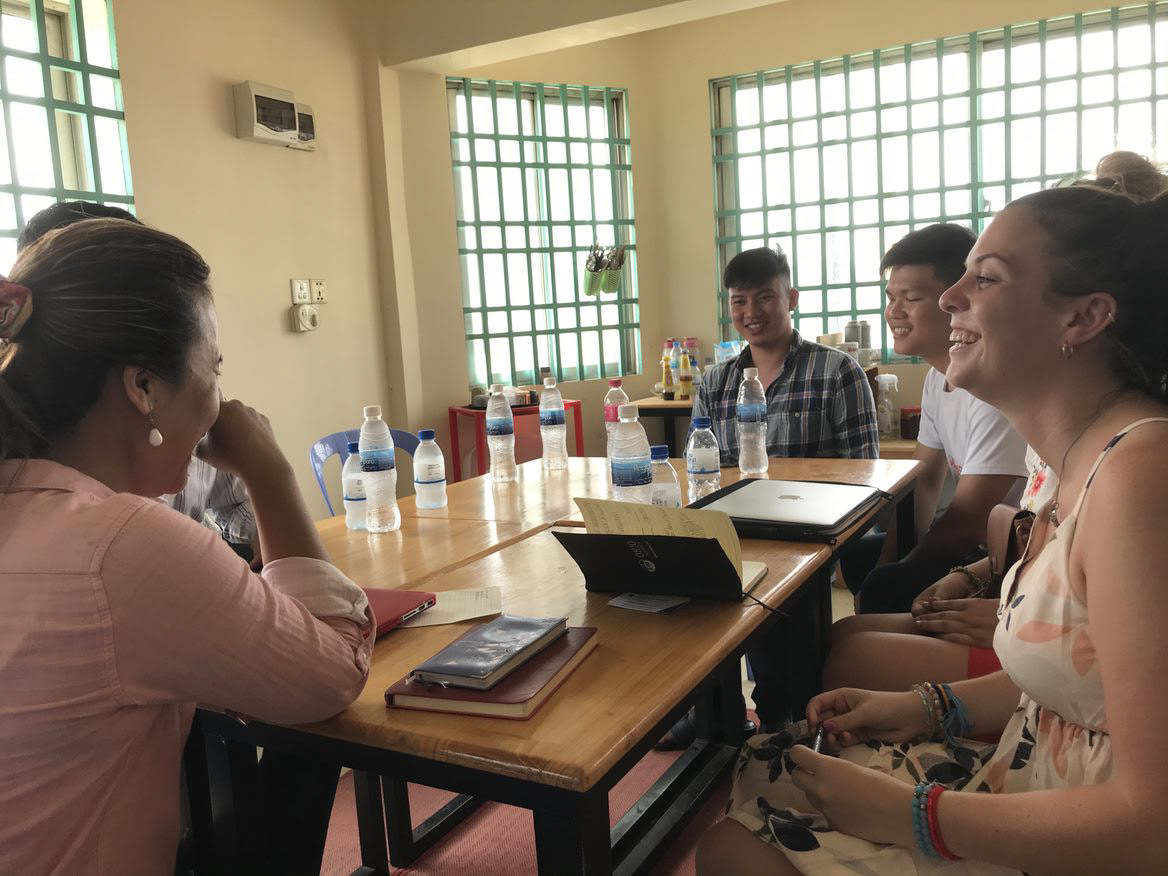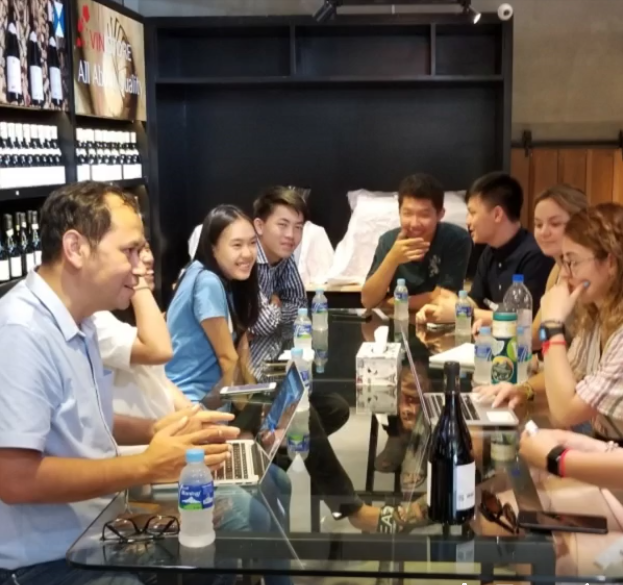 (left)

The Sronos Music School group.

(next)

The Sourire Pro Arts group.

(next)

The Serge Comtesse group.

By Michelle Rotuno-Johnson (right)

The Vinissimo group.

By Aaron Atkins
Dine With the Locals

Dine With the Locals provides an authentic Cambodian meal experience at homes around four cities. Hosts, many of whom are women, invite guests into their homes and cook for them. This allows the tourists to travel a bit and see how the Khmer people go about daily life, and eat a delicious home-cooked meal. The hosts, in turn, have an opportunity to make a little income as they share their homes with the world. 
The OHIO and AUPP students saw opportunities for Dine with the Locals to grow its customer base and host base with a reinforced social media presence. They shared suggestions to increase traffic on social media and bump up the number of reviews hosts would get -- which help Dine with the Locals and its hosts show up higher in search results and on travel websites. The students also helped the company start a blog, which you can read at https://dinewiththelocals.com.
This group traveled to Kampot, on the southern coast of Cambodia about 150km from Phnom Penh. Kdard la Tente is an ecotourism resort that invites its guests to experience a quiet seaside stay while learning about Cambodian culture and biodiversity. These students participated in a beach cleanup with locals, and worked with staff on marketing the business through social media. 
Serge Comtesse
La Vibol, the managing director of Serge Comtesse Salon, asked for help with advertising his salon, products, and services to potential customers on social media. Vibol's staff offer workshops in hair care to other salons, and sell high-end products to certain buyers. He asked the students to help him put together a plan to advertise the quality of the services and styling items at Serge Comtesse.
Sourire Pro and Arts
Sourire Pro and Arts, an advertising and design agency, asked the students to help them come up with a social media strategy for Facebook and Instagram, and work on some upcoming video content. The students gave them recommendations for a more dynamic Facebook page showcasing eye-catching visuals, and made a hashtag for SPA. CEO Heang Vattey and her staff were in the process of relocating their office. Vattey, who has experience in fashion and graphic design, said her dream is to open a major arts education center in Cambodia. 
Sronos Music School
So Sronos, the owner of Srornos Music School, and his administrative manager, Jessica van Ord, worked with students on a new website for the school and a way to create a "family feel" among their clients. Sronos is a classically-trained musician who started learning the piano at age 12 before pursuing a master's degree in music in Japan. His school offers classical training in piano, guitar, voice, violin, cello, flute, and more. The students helped Sronos' team build a website that looks professional, but will not require a lot of manpower to maintain.
Vinissimo 
Another group strategized with the owners of Cambodian wine import business Vinissimo. They developed a web platform, social media and advertising campaigns, and initiatives such as a weekly wine social club and tastings for the business. They were even tasked with a little interior design.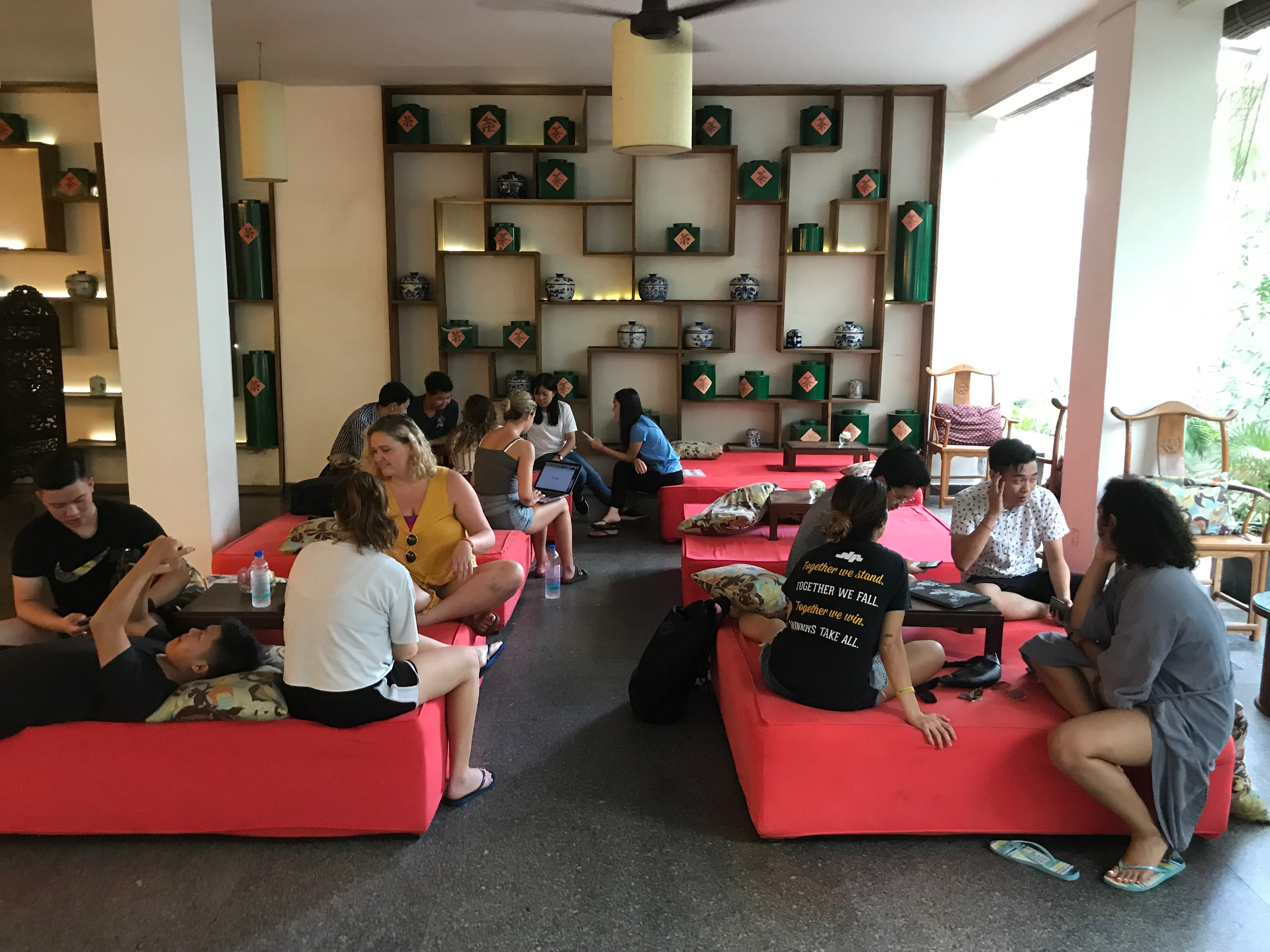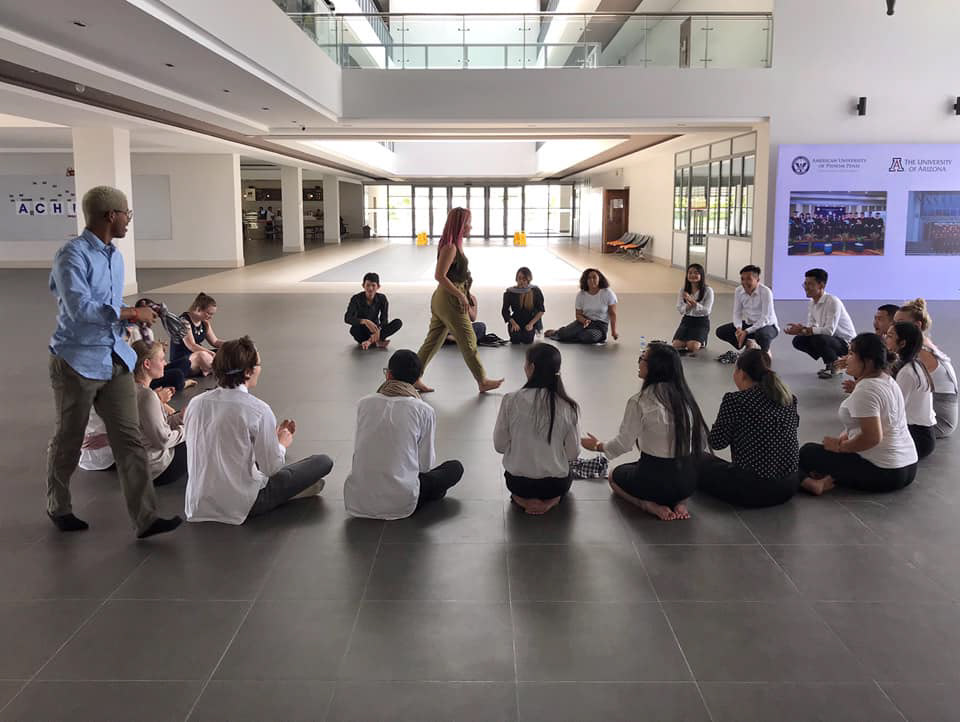 The student groups put heads together at the Tea House Urban Hotel in Phnom Penh.

By Michelle Rotuno-Johnson

OHIO and AUPP students play a game at the AUPP campus after sharing their projects and enjoying some pizza.

By John Agnone
A partnership to celebrate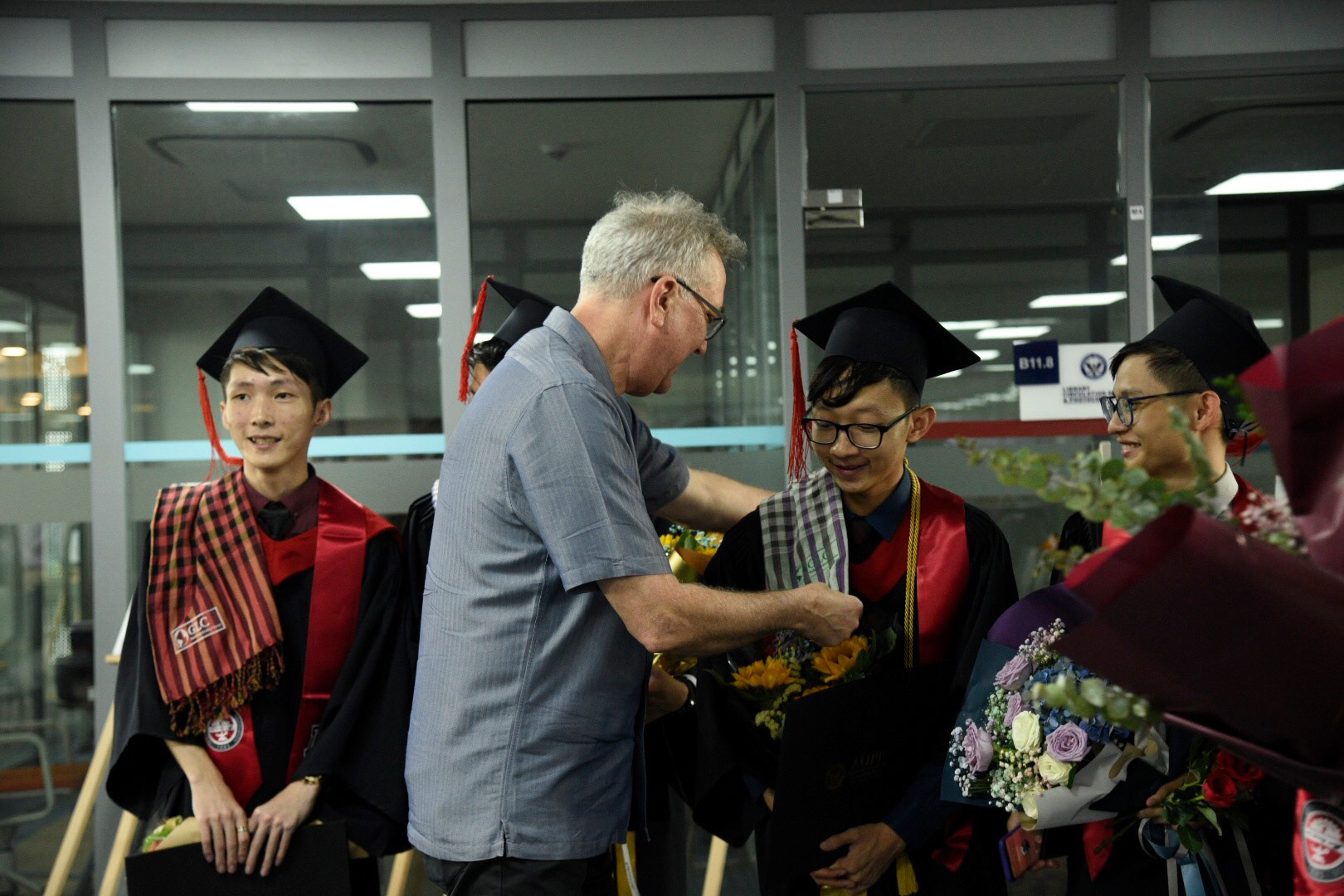 Dr. Bob Stewart handed out Khmer scarves to graduates of AUPP this year. 20 of the 36 graduates participated in the GLC with OHIO in previous years, including both valedictorians. 

Dr. Stewart has been working with the GLC and AUPP for the past 4-5 years and is the driving force behind this program! This was the fourth year for these collaborative projects.