Video by Russell James and Delia Palmisano; Editing by Delia Palmisano
By Michelle Rotuno-Johnson
Erich Phillips, a native of Texas, is part-owner at Cerevisia Brew Company and part-owner of Botanico. The restaurant offers food and unique beers in a lush setting, tucked away in an alley off Street 29 in Phnom Penh.
With a beer and a bulgogi pork quesadilla in front of him, the bearded Texas native explains how he went from managing social work cases in the USA to becoming part of the craft brew scene in Cambodia.
Phillips and his wife lived in China for several years before moving to the Kingdom. He said he began making beer with friends every weekend about six years ago because "it was hard to find a beer that reminded me of home."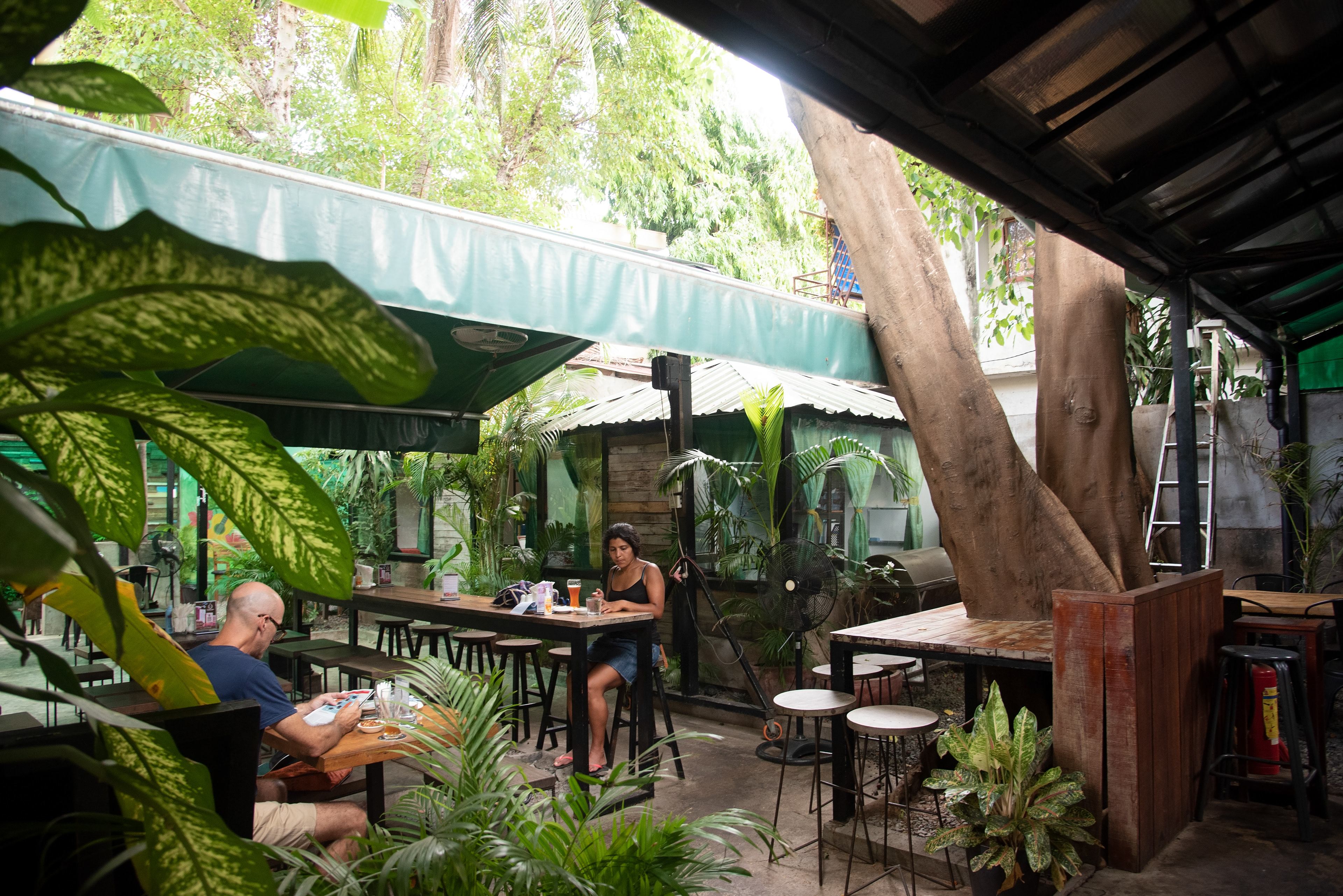 Patrons

at Botanico

enjoy

a beer and

lunch
.

By Delia Palmisano
Cerevisia Craft Brewery grew from those Sunday mornings sharing beer with loved ones. The name is derived from the Latin word for brewers' yeast. Two years after Phillips and cofounder/brewer Chad Richman started Cerevisia, they opened Botanico.  
Phillips says Botanico wants it to be a "third place" for people, a familiar hangout spot. The crowd is mostly ex-pats, chit-chatting at tables surrounded by plants and green, leafy trees.
"We wanted this to be a third place for folks to be that home away from home where everybody knows your name, kind of the 'Cheers' of Phnom Penh."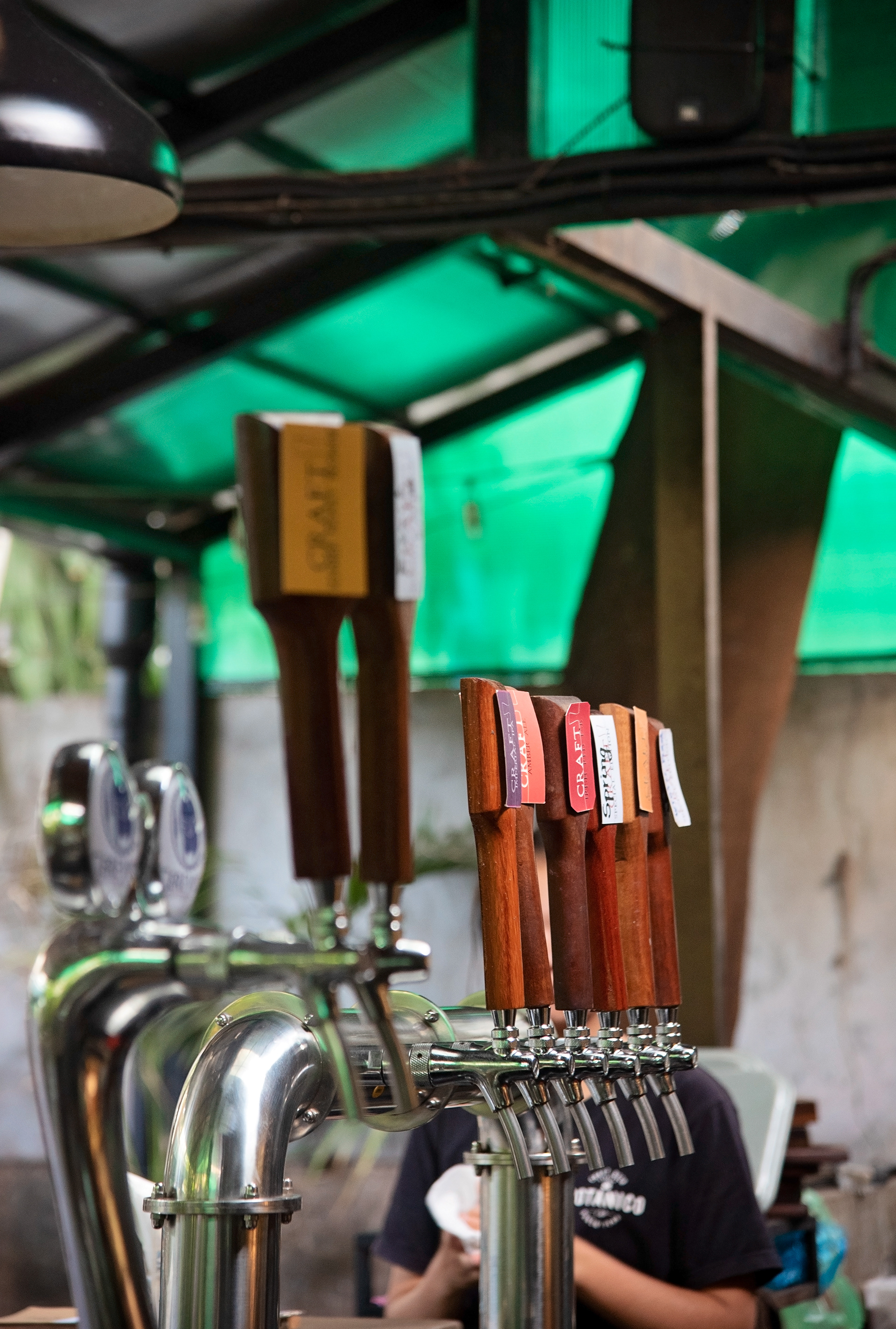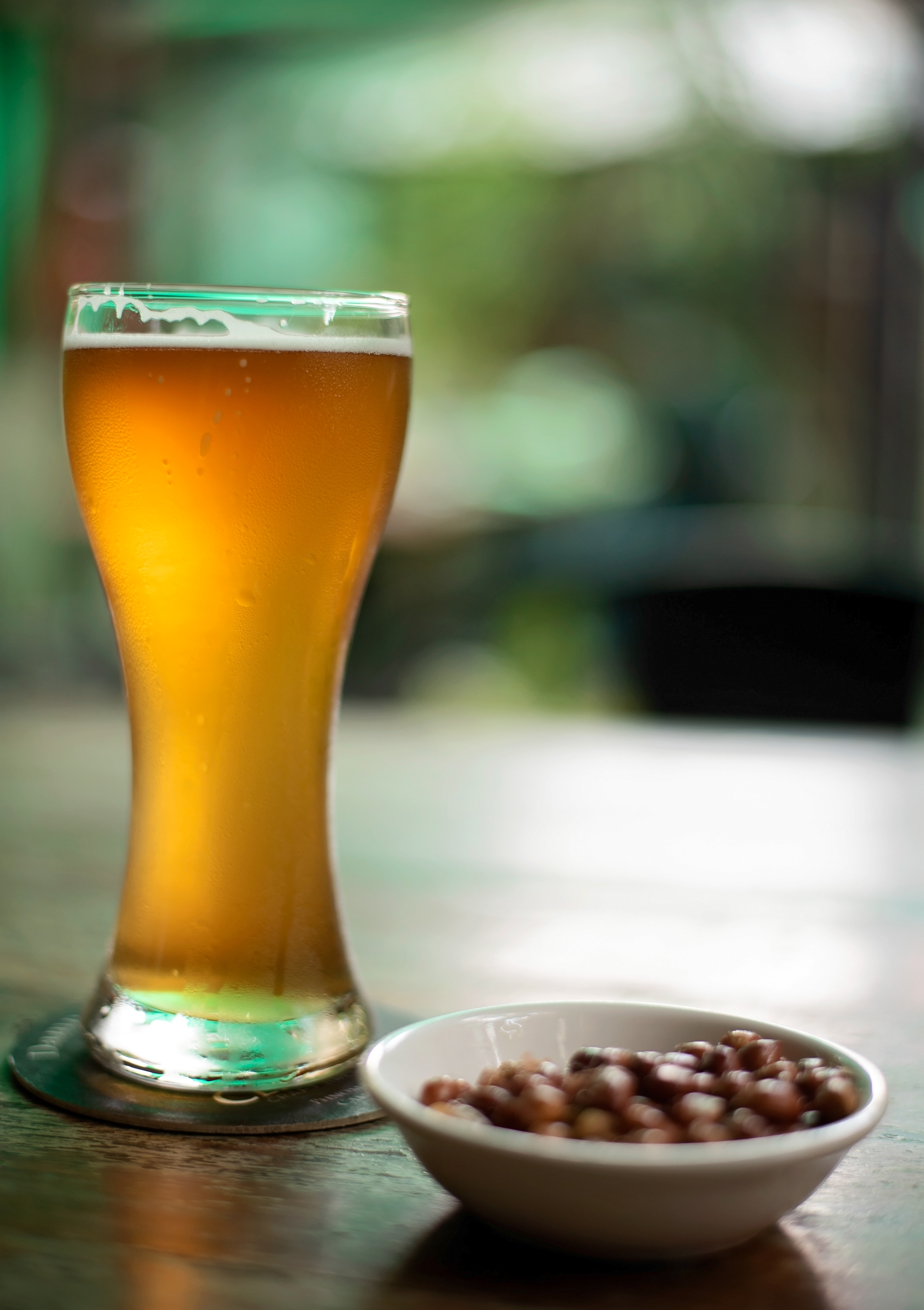 (left)
The taps display the beer selection.

(right)

A cold beer sits ready to be imbibed. 

By Delia Palmisano
Phillips and others are trying to shift the tectonic plates beneath the beer industry in a country that guzzles lagers. Cambodian lagers sell for anywhere between $1-3 in many local shops and restaurants, and are widely advertised anywhere you go in the Kingdom.  
Botanico Craft Brewery features a variety of complex flavors, including several different ales, the Khmer Honey Blonde, and a chocolate oatmeal stout called Darth Side. Several brews feature Roman-inspired names: Centurion, an American pale ale; Roman Spark, a smoked ale; and Princeps, an imperial IPA. 
The beers are featured at more than 15 locations in Phnom Penh, and one in Sihanoukville.
360 video by Russell
James
Phillips said the beers include local fruits, yeast, and honey to showcase Cambodian flavors. The climate is not right in Cambodia for Cerevisia staff to grow their own hops or buy any from local growers.
"If you're trying to create an ex-pat product in a foreign country, you're going to mostly attract ex-pat customers," Phillips says. "But the point is, you can do that back home. Why not be a part of the community here as much as possible?"
To reach Cambodian customers, the Cerevesia team also has to cater to Cambodian palates. Phillips said he learned Khmer customers are not used to the bitterness of IPAs, which Americans drink down happily. 
"It can't be too far off the target from what they're used to," he said. "What we're trying to do right now is to create a product that is in the same language, the same understanding."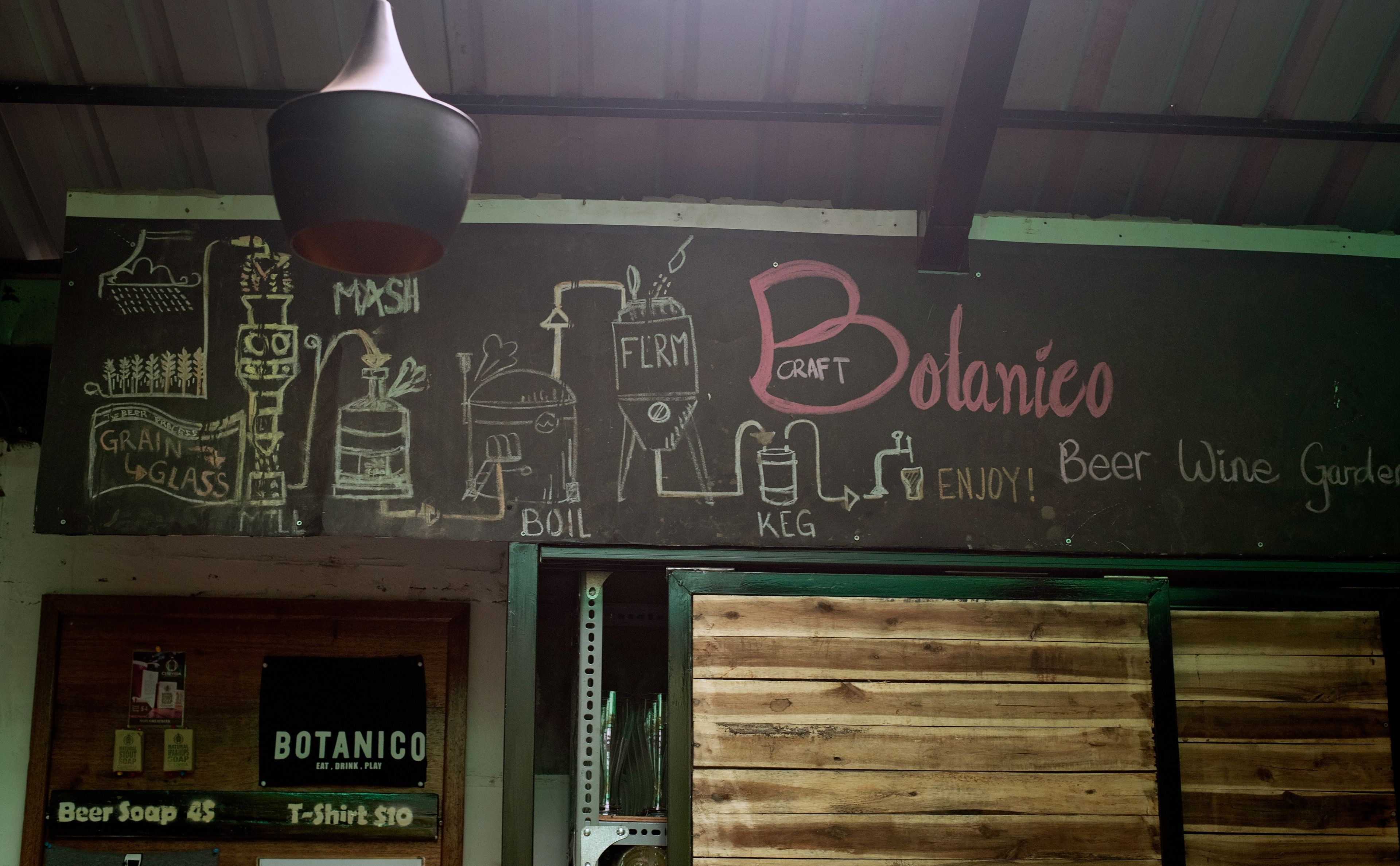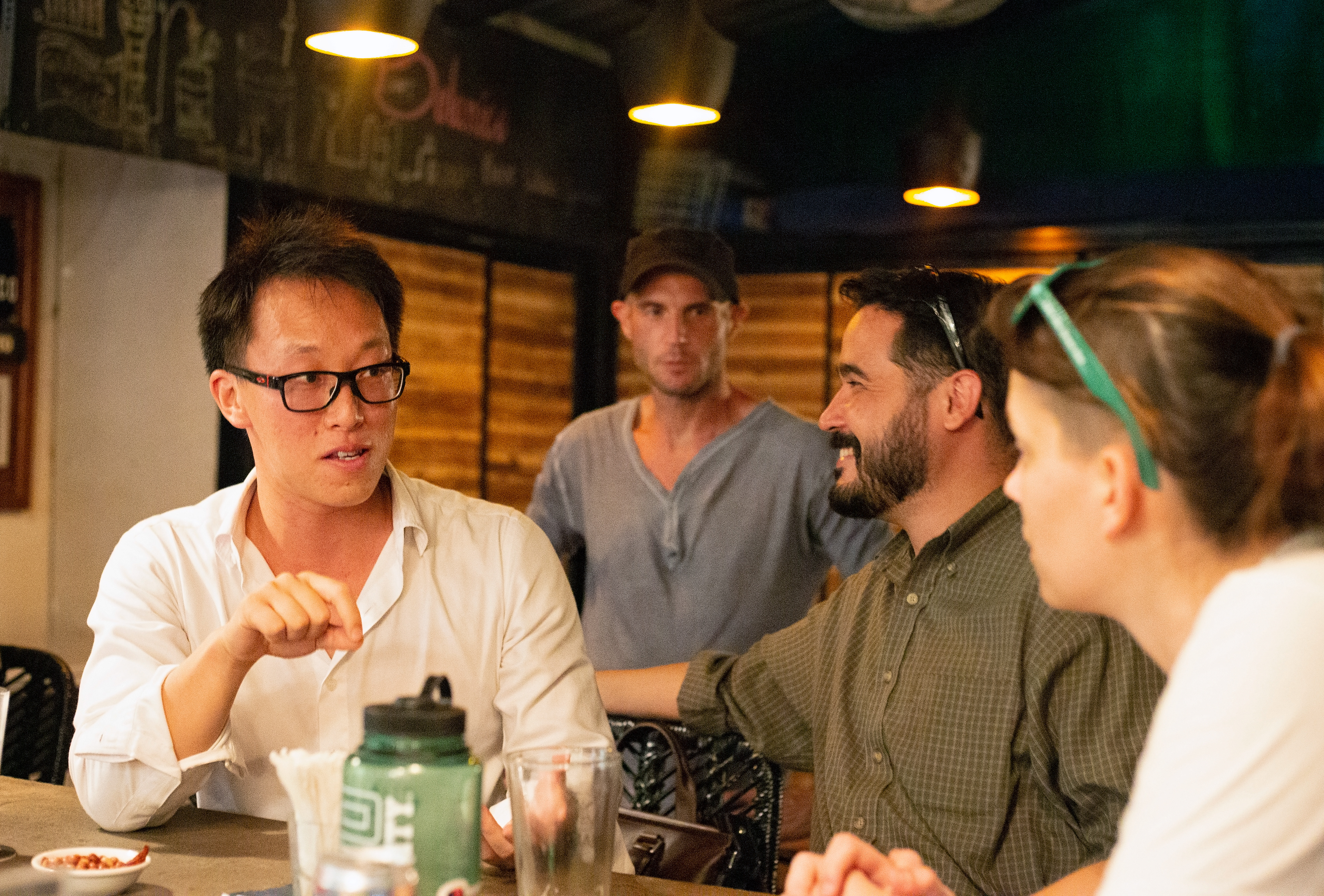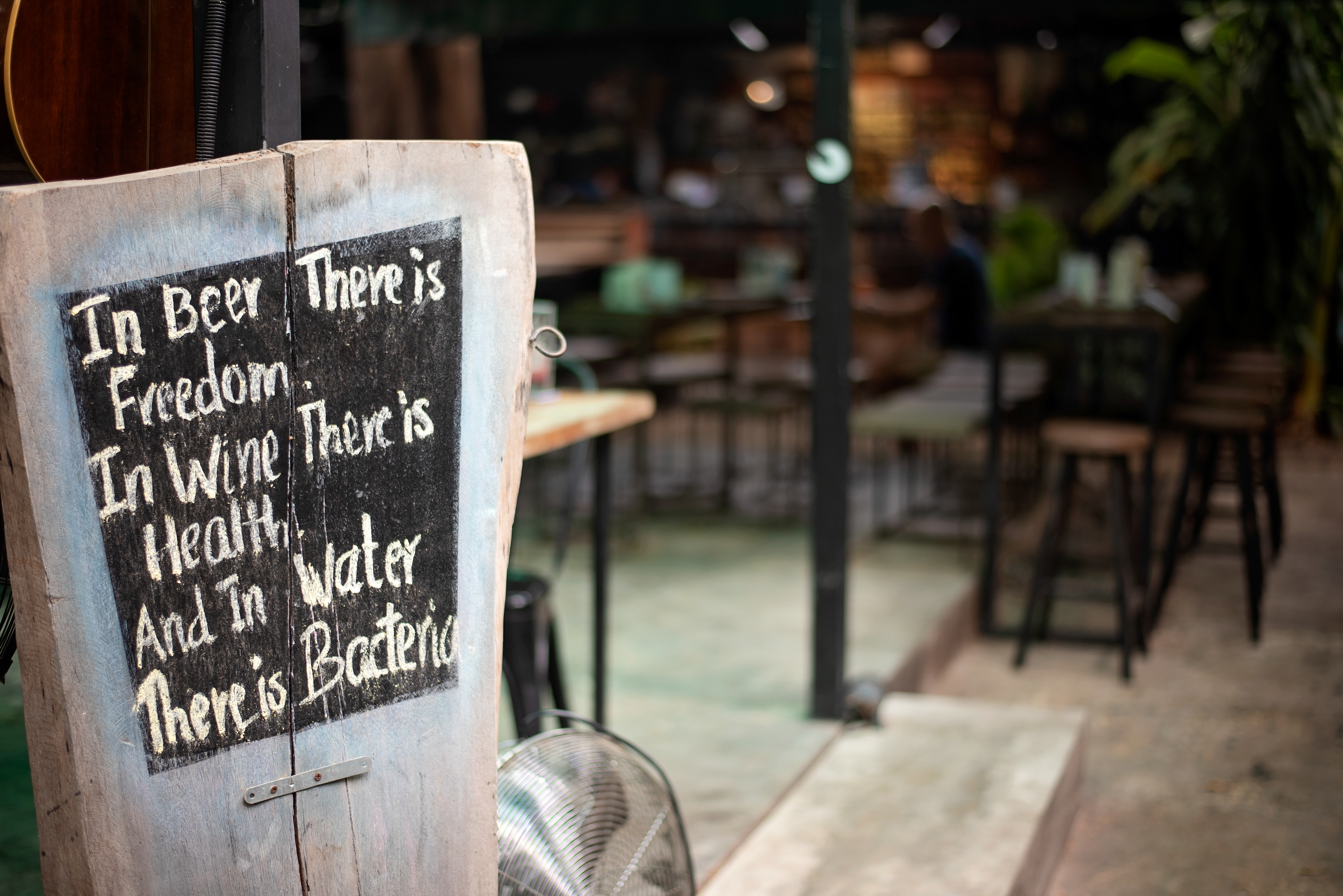 (top left)

A sign

at

Botanico

shows

the

brewing

process
.
By
Delia Palmisano
; (

top right)

Erich Phillips enjoys a beer at Botanico.

By

Russell

James
;
(bottom left)

Galeno Chua, left, enjoys a drink at the bar with Erich Phillips.

By

Aaron

Atkins
; 
(

bottom right

)

A sign at Botanico displays the brewery's mantra.

By Delia Palmisano
He also says he learned bottled beer is seen as a more "high society" drink than draft beer in Cambodia, so it has been a challenge marketing the product to customers accustomed to bottles of Angkor, Anchor, or Tiger beer. But, he says, the company is finding success in the local market and Phillips is enjoying sharing new products with new people.
"Being a part of the community is the most important piece. And that means that the beer that I like, I may not be the beer that they like. And that's okay because here I'm a guest, and at the end of the day, I think we're successful when we introduce something to the local population and they enjoy it."